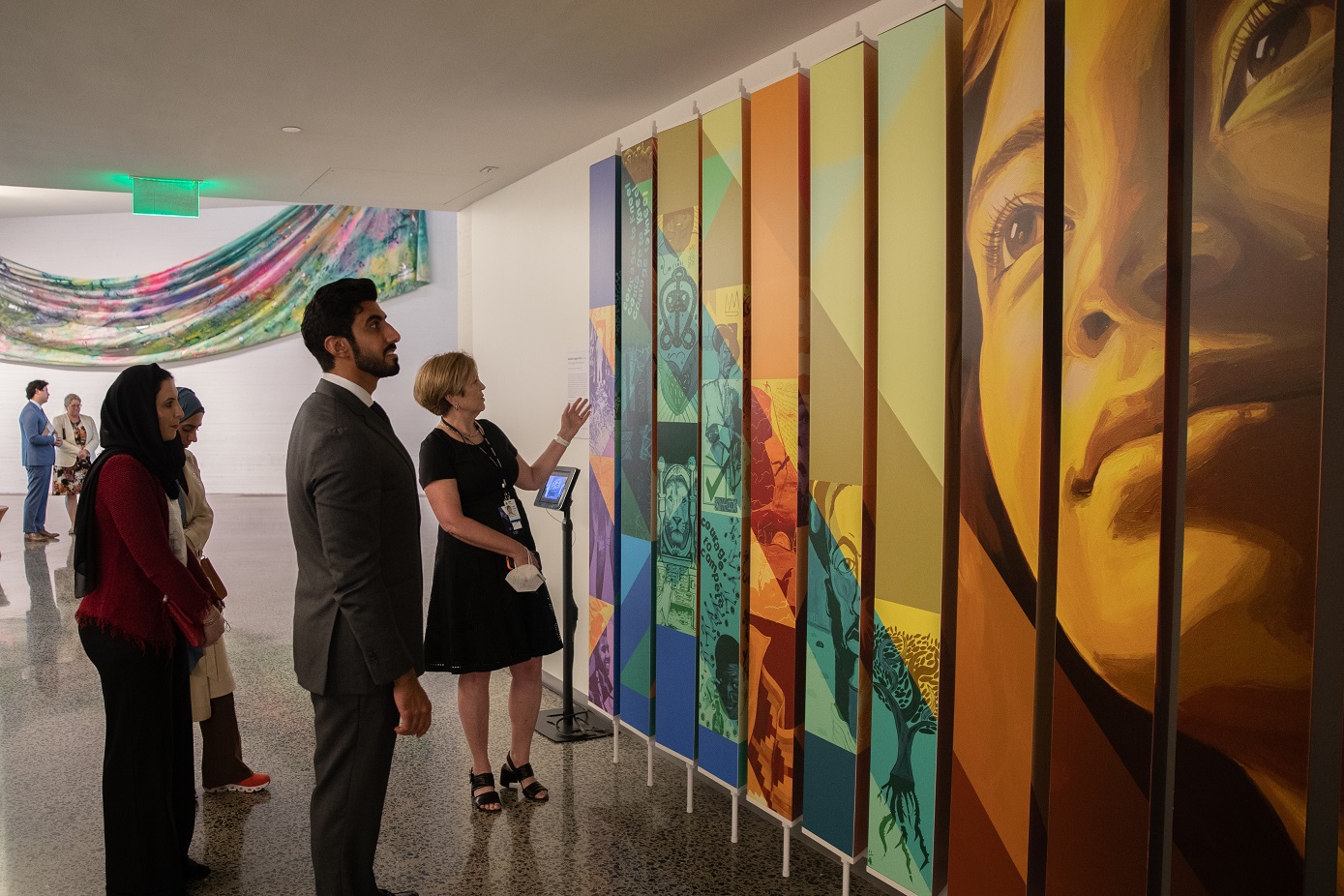 Ministry of Culture and Youth delegation concludes visit to Washington DC
July 3, 2022
The Ministry of Culture and Youth's delegation to the Smithsonian Folklife Festival concluded its visit to Washington DC after a series of meetings with American institutions and cultural figures.
The delegation led by H.E. Mubarak Al Nakhi, Undersecretary of the Ministry of Culture and Youth toured museums, art houses and federal agencies in Washington D.C., held a series of meetings to exchange ideas and share knowledge about the latest developments in the arts and culture sector in both countries.
The delegation's itinerary began with a tour guided by Chase F. Robinson, Director of Smithsonian's Freer and Sackler Galleries of the National Museum of Asian Art. The tour included visiting the exhibition entitled 'Falcons: The Art of the Hunt', along with other permanent exhibitions where they learnt about the major collections of Asian art owned by the museum. They explored areas of collaboration including conservation of artifacts and future collaboration on exhibitions and festivals such as Al Burda.
The Ministry's delegates also met representatives of the National Endowment for the Arts, Michael Orlove, Director of State, Regional & Local Partnerships and Sunil Iyengar, Director of Research and Analysis. The delegation learnt more about the role of the federal agency in supporting talents and promoting the arts through their grant schemes. Areas of collaboration were explored on sharing expertise on the grant programmes offered in both countries.
The delegation then met at Kennedy Centre REACH with Deborah Rutter – President of the John F. Kennedy Center for the Performing Arts; Kevin Giglinto – SVP, Artistic Planning and SVP, Marketing and Strategy and Donna Cutro – Director, Institutional Giving, where they learnt about the centre's offered spaces and facilities along with their programming and role in supporting talented art professionals. Discussions also took place around their National Symphony Orchestra along with the Washington National Opera.
"This visit shows our keenness to strengthen our ties with various American cultural institutions, as we celebrate our participation in the Smithsonian Folklife Festival. We see this Festival as a bridge to introduce our Emirati and Arab culture to the American and international community," said H.E. Mubarak Al Nakhi, Undersecretary of the Ministry of Culture and Youth.
"During our visit, we were briefed about the integrated working system for major American cultural institutions. We share a common vision with these American institutions and see them
as our allies to strengthen cooperation in various cultural fields. We believe in the importance of sharing knowledge and taking advantage of the experiences that will help us improve our cultural offerings. We received key insights into how integrated institutional work contributes to the advancement of the arts in general, and how its supports talented people in various fields," H.E. said.
"Advancement in the creative fields cannot be achieved in isolation, it is built on the strong pillars of cooperation and partnership. We can all benefit from each other's experiences which is why knowledge sharing is imperative to growth in the creative fields," H.E. concluded.