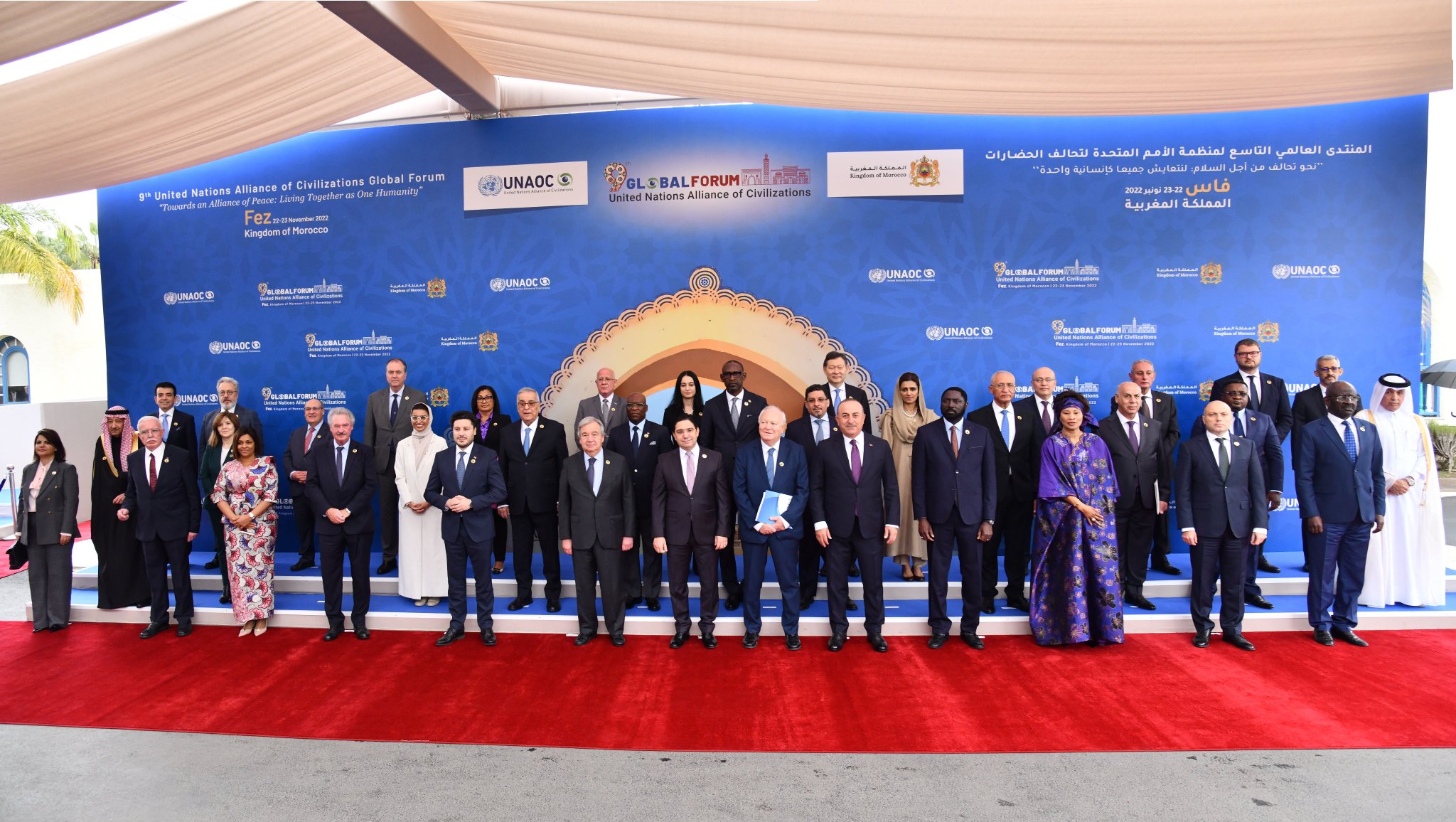 Noura Al Kaabi represents the UAE at the 9th United Nations Alliance of Civilizations (UNAOC) Forum
November 26, 2022
Her Excellency Noura bint Mohammed Al Kaabi, Minister of Culture and Youth, represented the UAE in the ninth session of the United Nations Alliance of Civilizations (UNAOC) Forum, which was held over two days Novemebr 22-23, 2022, under the theme 'Towards an Alliance for Peace: Living Together as One Humanity', in Fez, Morocco.
The event, held under the patronage of His Majesty King Mohammed VI of the Kingdom of Morocco, dealt with ways to enhance dialogue and cooperation between different societies, cultures and civilizations. The forum hosted member states of UNAOC and high-ranking officials from international organsiations including Secretary-General of the United Nations, António Guterres, and 40 ministers and heads of states. It also hosted participants from around the world to discuss issues related to religions, cultures and civilizations, the prevention of extremism and violence, as well as highlighted topics related to migration, identity, heritage, shared values, combating discrimination and intolerance on the basis of religion, belief and race.
In her speech at the forum, Her Excellency Noura Al Kaabi pointed out that the world is facing many challenges, such as conflicts, climate change, food insecurity and water scarcity, which are further compounded in the aftermath of the devastation caused by the Covid-19 pandemic. "These crises are negatively impacting economies and societies globally, and need to be addressed urgently on a world scale with rapid and real action."
Her Excellency continued: "There must be real, serious and collective action to confront these issues. We need to find effective solutions to end the crises, and that's what brings us here to this pivotal forum. There is an urgent need to forge human-centred policies focusing on humanity and improving the quality of life for everyone. With its inherent quality to forge human and community ties, culture can offer solutions to tackle the current challenges and enrich our lives."
"The UAE, under the leadership of His Highness Sheikh Mohamed bin Zayed Al Nahyan, President of the UAE, is playing a key role in promoting tolerance, coexistence and human fraternity. We believe that these values constitute the pillars for achieving sustainable development and prosperity in societies, and contribute to peace in the world, while supporting the aspirations of peoples for decent living," she added.
Her Excellency stressed that the UAE's vision of peace stems from a well-established approach based on the values of coexistence, dialogue and tolerance instilled by the UAE's Founding Father, Sheikh Zayed: "The UAE is an example of how diverse cultures and religions can coexist in perfect harmony. Our nation has been at the forefront of propagating peace in the world by calming tensions, closing differences and promoting human-first approach."
Her Excellency also highlighted the UAE's contribution to support tolerance, coexistence and peace in the past three years. She mentioned the visit of Pope Francis and the Grand Imam of Al Azhar, Ahmed Al Tayeb, to Abu Dhabi to sign the Document on Human Fraternity, which was a blueprint for the establishment of interfaith dialogue. It was this historic meeting that led to the announcement of the Abrahamic Family House, which includes a mosque, a church and a synagogue. She also spoke about the UAE's success in hosting more than 190 countries and organisations at Expo 2020 Dubai, with the vision for connecting minds, creating the future.
The 9th UNAOC Forum adopted a Declaration in Fez stating the member states' commitment to achieve comprehensive goals, so that governments, with the support of civil society, can overcome challenges and progress towards coexistence within peaceful, inclusive and sustainable societies. This would only be possible by promoting media and information literacy and propagating tolerance, respect and mutual understanding.