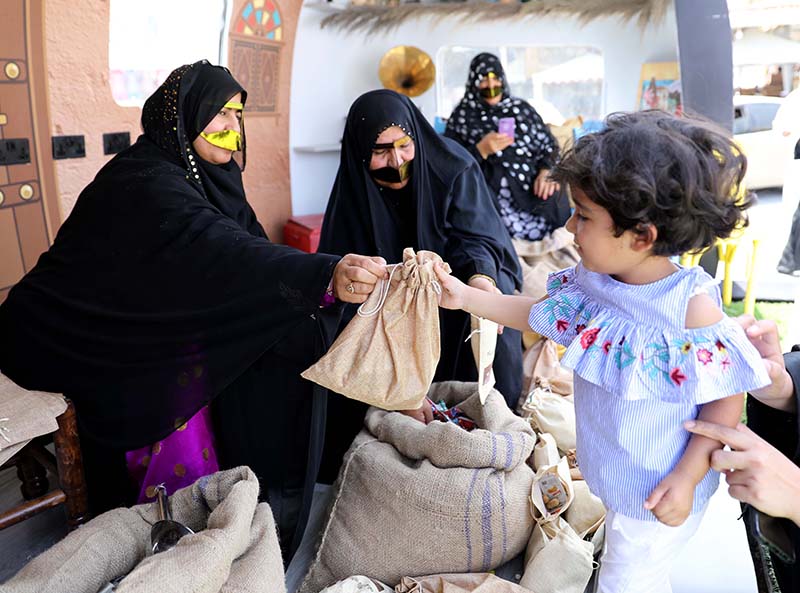 "Haq Al Laila" convoy tours the UAE to celebrate the popular tradition
April 18, 2019
The convoy of "Haq Al Layla" has commenced its UAE-wide tour in Fujairah. It will make a stop in all UAE emirates within three days, to mark the traditional celebration of the night of Shaaban 15 on the Islamic calendar — the month that precedes the holy month of Ramadan. This activation, organized by the Ministry of Culture and Knowledge Development, aims to preserve the UAE cultural identity and enhance the trust and pride of Emirati citizens in their national identity and heritage, and engage the UAE community, with all its segments and groups, in an interactive cultural expression.
Noura bint Mohammed Al Kaabi, Minister of Culture and Knowledge Development, said: "The celebration of "Haq Al Layla" promotes compassion, fraternity and tolerance, as we prepare for the holy month of Ramadan.  The night of Shaaban 15 is an occasion cherished by our forefathers. By celebrating it, we honour them and keep their legacies alive . It is also a joyous occasion which brings the community together, especially children who enjoy the interaction and sharing and receiving treats. Such a celebration strengthens families and promotes solidarity within our community."
Noura Al Kaabi noted the importance of preserving cultural heritage for future generations, as one of the elements of knowledge sustainability and cultural renaissance, she said "We seek to preserve our cultural heritage and introduce it the world as part of our civilization, with its human dimensions and values of tolerance and openness, and we also support the vision of the UAE to build a harmonious society, which maintains its national identity."
"Haq Al Laila" campaign is a caravan that travels across various areas in the UAE, broadcasting festive songs. It features designs and decorations derived from the heritage of the UAE. With the participation of senior citizens, traditional sweets are distributed among children and the public, throughout the convoy's three-day journey across the seven emirates.
The celebration of "Haq Al Laila" or the night of mid-Shaaban is one of the popular traditions, passed through the generations in the UAE, to celebrate the imminent start of the holy month of Ramadan. It promotes family and community ties and strengthens religious feeling and human connections in the UAE at large. Every year, children wear traditional clothes and carry colorful woven colored bags, going door-to-door singing ancestral songs, in return for nuts and sweets.